*Scroll down to the bottom of post for full list. Thanks*
My time has come! It's one of my favorite posts to write. I do love reading your recaps as well. Don't be shy, and share your links to your yearly recaps in the comments if you wish. I count these posts as Christmas/Birthday presents. I'm a January baby.
This year I've completed 'only' 43 books.

In 2018, I read 65, -many of them long titles-.

In 2017, I managed to read 71 books. At the time I was still homeschooling the girls, so some titles were shorter books I read aloud to them.

In 2016, I read 53 books.

Looking at the whole list of this year books, I realize how good all of the 43 of them are. I'm proud of all this year titles. Not a single regret among them. This is how I chose them all this year:
I like to pick titles on a whim, I love writing lists for some challenges and trying to fulfill them, heeding to your recommendations, my reader friends, and getting inspiration from you. I relish reading together with you as well, with my local friends, or at the hosted readings we all do. I also like challenging myself, shopping from my shelves, visiting my local second hand book store, doing some online shopping, hunting down titles from my specific lists and interests.
A bookish and reading life affords lots of fun and food for the intellect, all for free or for little expense. Even when we pay more for any reason, it's an investment, it gives us back tenfold.

My life is rich.
I look to 2019 with gratitude. At times, I've just read. No writing. No blogging. At those times, also, I haven't been very able to read your blogs. Eventually, I go back to all of you. I need your blogs for inspiration. It's like a drug. Once, Janakay and I joked extending the drug metaphor, and called ourselves mainline users of classics and substantial books. We always get back to hardcore titles. I also need the conversation. Without all that, I'm nothing as a reader.
Let's begin. Slaughterhouse-Five, Kurt Vonnegut, 1999. Vonnegut, being adored and highly read among teens, -at least former generation teens who read as a form of rebellion-, I had this preconceived idea that his writing would be too young and too angst filled. I was surprised favorably to find someone who, to me, is one of the best authors to write about WWII.
I also read Sirens of Titan, 1955, and it became obvious that he's a masterful writer. Only Vonnegut can write science fiction that transcends, and in which the deep themes of life, such as war, suffering, existential questions like faith, fate, love, mental health, seem so real. Probably because he was at the bombing of Dresden, he can write about War II or war in general, and it rings so true, no matter the format or genre.
The Divine Conspiracy is a book I started to read in 2018. It was quite powerful. It's almost impossible to agree with any theologian on everything, but as a christian, those books in which I recognize much of what I read in the Scriptures, and that encourage me in my christian walk, are worth the time and effort. His book is definitely intellectual, but never gratuitously complicated.
Willard makes me think of DeLillo, whose defining word I believe to be restraint. I've read many new to me authors this year, DeLillo among them. White Noise was my last book of 2019. Excellent title. And to think I was seriously intimidated, and in disbelief. DeLillo's front line theme is death. After this book I kept thinking that all literature deals either straight with death, or with the transition to death we call life and its many diversions.
Maybe White Noise spoke to me at the time when my only sister in law died at the age of 55. We still haven't processed this. The Gentle Art of Swedish Death Cleaning, by Margareta Magnusson, another book about death, was not remotely depressing. It's written with humor and warmth. My mother in law had to go through this that Magnusson writes about, cleaning after the deceased. She wrote the book inspired by different cleanings and getting rid of lifetime belongings for two of her loved ones.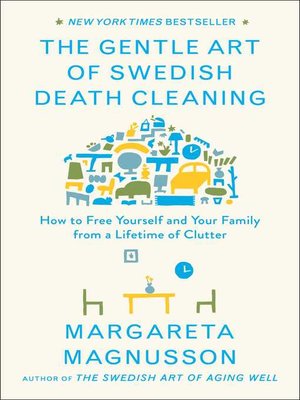 She wanted to do something in life, for those who'll be here when she's not. For her, cleaning after the passing of her mother and husband wasn't an easy task. It can be overwhelming. Not only, starting to scale down while alive, and going through your possessions, remembering them, -when you got them, who gave them to you, the memories-, and finding new owners for them, donating them, etc., gives a lot of meaning to our days, and free us too from too much, and the time it takes to take care of those things, specially when they don't fulfill a purpose anymore, -be that practical, aesthetic, or both-.
Association takes me to the next stop, The Death of Ivan Ilych. This novella is an obligated read. Russian authors are great at writing either short short books, or door stoppers, speaking of which, my longest titles were Don Quijote part 1, Midnight's Children, Gaudy Night, Moby Dick, The Ambassadors, and the Bible.
Don Quijote was a reread and book club I hosted here. I wanted to do both volumes, but after a few months with part 1, I got tired and stopped. I'll take whoever wants to, through part 2. Most likely in the summer, when I'm on vacation.
Midnight's Children was my first Rushdie book, but it won't be my last by Rushdie. I have Quichotte in my possession, and I'm so looking forward to reading it in 2020. In truth, I couldn't have read Midnight's Children, I had to listen to it. It was an exceptional audio.
And just when I thought I'd never go back and finish Moby Dick, I saw some blogger friends reading it, and I attempted it for the second time. But I did the weirdest thing and read it in Spanish. I loved it. I don't care if I lost anything in translation, I got so much from it, I could fill up treasure coffers by the dozen.
Around January and February, I read Edmund Jorgensen. I read his first book, Speculation, when he published it, in 2011. And I read it again after I read his new title, World Enough, (and Time.) They are both clever books and entertaining. Just what I needed at the time.
The most bizarre book award goes to Italo Calvino. The Baron in the Trees, and The Invisible Cities, specially the last one, were different to anything I have read in my life. They captured my imagination with a force.
Talking about length, while Gaudy Night is voluminous, at 500+ pages, it did not feel long at all. Maybe because it's a mystery deftly written by the one and only Dorothy Sayers. Speak, Memory, while shorter, felt longer, but not in a bad way either. Nabokov's unconventional memoirs are remarkable. What he got to live, and his way of relating it to us, I can't describe. It's poetry, philosophy, chronicles of a very relevant time through his lens. He puts a spell on the reader.
I read lots of new authors: Muriel Sparks, Kurt Vonnegut, Salman Rushdie, John Le Carré, Steven Hopkins, Emilia Pardo Bazán, Magnusson, Auchincloss, Alan Paton, Octavio Paz, P.D. James, Dick K. Philip, George Simenon. And I'd like to read more by Sparks, P.D. James, Vonnegut, and Rushdie for sure. There's always the dilemma of rereading, reading more from authors one loves, or trying new authors.
The few mysteries I read, I picked at that time when I needed something lighter, and they were just perfect. Simeon, P.D. James, Christie, and Le Carré, each and all hit the mark.
The non fiction I read was simply great. Every year I wonder why I don't pick more non fiction books. Probably I don't need a lot of non fiction, but I'm going to need a few intentionally picked titles for 2020.
Special mention to The Four Loves, by C.S. Lewis's read along done by Cleo. I did want to read the book for sure, more when I saw this invitation, but I didn't have the book. A few days after seeing the post, I found it at my local used store, and I joined quite informally. We talked about it and conversed at the comments. It was wonderful. I learned much about love and got very inspired to love more and better.
I should mention that this year I finally read some books and authors I had wanted to read for some time: Los pazos the Ulloa, The Illustrated Man, Moby Dick, A Briefer Story of Time, Gaudy Night, The Spy Who Came in from the Cold, The Baron in the Trees, Speak Memory, Vonnegut, Rushdie, DeLillo, Muriel Sparks, Auchincloss, Octavio Paz. Very glad and in debt to all of these and them for the hours of beauty they gifted me, for nurturing mind and soul.
Books I didn't think I'd like and I ended up loving: Cry the Beloved Country, The Labyrinth of Solitude, A Briefer Story of Time, Ethan Frome. and Slaughterhouse Five. They truly surpassed my expectations.
Before closing, if I had to recommend just three titles, they'd be these: Invisible Cities, by Calvino, The Story of a Shipwrecked Sailor, by Gabriel García Márquez, and White Noise, by Don DeLillo. I'll never recommend a book like Moby Dick or The Ambassadors, unless asked about it. Those long books, or others more specific to my own interests, they have to be "self inflicted", ha ha ha.
Why? Invisible Cities is not that well known, but it's not an obscure or complicated book to read at all. It's probably the most fascinating 176 pages you'll ever read. If you like that cross between fantasy, reality, and philosophy, Marco Polo and Kublai Khan, traveling, and cities, of course, read it. I'm thinking about starting the year with a reread. I still don't know what it was all about, ha ha ha. It's one of those books that mesmerizes you, even though you can't describe why, or what it is about.
The Story of a Shipwrecked Sailor, another short title at 128 pages. It's such a peculiar book with a unique story behind and upfront. To talk more would be to spoil it.
White Noise will not need recommendation among many of you who know your postmodern writers and their worth. I recommend it to those who, like me, are intimidated by all this postmodern literature, or those who have found how most of it leans to the dark, depressing, and too harsh to read. Specially if or when we need a bit of comfort from our reads. In this book I found a a lot of what I go through as a XXI century person, -even though the male point of view dominated through the book-. That didn't bother me because it precisely reflected our reality as women. It's not as if Jack's wife, Babette, is a stupid or flat character, it's just that the book is told through Jack's lens.
Teens and children, I found them well portrayed, but that's, I'm sure, my own bias as a parent. For those characters, Jack's view and my view overlap. I saw the tension and tenderness I live at home. In DeLillo's defense, (though I am not sure he needs any, :), Babette is lovely and remarkable, and probably quite a mystery. She has nothing to do with Gatsby's Daisy, but both are not fully presented to the reader, that's what I perceived.
If you want to ask more about any book in the list below, go ahead, please! Also, leave me your comments on any and all the titles you want to discuss with me. I do appreciate your thoughts on books.
2019 BOOKS READ
Slaughterhouse-Five, Kurt Vonnegut ★★★★★
The Divine Conspiracy: Rediscovering Our Hidden Life in God, by Dallas Willard, ★★★★★
The Death of Ivan Ilych, Tolstoy ★★★★★
Midnight's Children, Salman Rushdie ★★★★
Ten Poems to Change Your Life, Roger Housden ★★★★
The Baron in the Trees, Italo Calvino ★★★★
World Enough, (and Time), Edmund Jorgensen ★★★★
Speculation, Edmund Jorgensen, 2x around, ★★★★
The Spy Who Came in from the Cold, John Le Carré ★★★★
The Prime of Miss Jean Brodie, by Muriel Spark ★★★★
Ethan Frome, Edith Warthon ★★★★
Temor y temblor, Kierkegaard★★★✫
Don Quijote, Libro I, Cervantes ★★★★★
Gaudy Night, Dorothy Sayers,★★★★✫
A Briefer Story of Time, Hopkins, ★★★★✫
Los Pazos de Ulloa, Emilia Pardo Bazán ★★★★✫
The Gentle Art of Swedish Death Cleaning, by Margareta Magnusson,★★★✫
The Secret Life of Bees, Sue Monk Kidd ★★★✫
Job: A Man of Heroic Endurance (Great Lives from God's Word Series, Volume 7), by Charles R. Swindoll ★★★★
The Rector of Justin, Louis Auchincloss ★★★✫
Icons of Art: The 20th Century, by Jürgen Tesch ★★★✫
The Illustrated Man, Ray Bradbury ★★★★★
Seda, by Alessandro Baricco ★★★✫
Los embajadores, Henry James ★★★★★
Escape from Reason, Francis A. Shaeffer, 2x around, ★★★★★
How Should We Then Live? Francis A. Shaeffer ★★★★✫
Un asesinato muy corriente y otros relatos, by P.D. James ★★★★✫
The Children of Men, P.D. James ★★★★✫
The Sirens of Titan, Kurt Vonnegut ★★★★★
El arte de amar, Erich Fromm ★★★★★
El perro canelo, George Simenon ★★★★
The Four Loves, C.S. Lewis ★★★★★
Y no quedó ninguno (Diez negritos), Agatha Christie ★★★★
Cry the Beloved Country, Alan Patton, ★★★★★
Biblia. Reina Valera, 1995
Las ciudades Invisibles, (Invisible Cities), Italo Calvino, 1972 ★★★★★
Speak, Memory, Nabokov, ★★★★★
Ubik, Dick K. Philip, ★★★★
The Story of a Shipwrecked Sailor, by Gabriel García Márquez ★★★★★
Moby Dick, Melville ★★★★★
N or M?, Agatha Christie ★★★★✫
El laberinto de la soledad y otras obras, Octavio Paz, 1997 ★★★★★
White Noise, Don DeLillo, 1985 ★★★★★
RATING METHOD
I've changed my reviewing method. This is a full star, ★, and this a half star, ✫
The half star, ✫, would make it closer to the higher category, an in-between of sorts.
★★★★★ Not to miss, worth re-reading
★★★★ Books that surely have stayed with me.
★★★ Very enjoyable read, recommendable.
★★ Meh. Nothing remarkable.
★ Run.