Once more, I've completed the challenge. I've read the 12 books per category, and other classics that could have fit too. Each title has a link, and in this wrap up post, I'm also adding a short comment of what I think about each book.
1. A 19th century classic – any book published between 1800 and 1899.
La corte de Carlos IV, Galdós
I'm not sure this title exists in English. Galdós was an uber prolific writer. He took up writing a series of historical fiction called National Episodes, five series with five different main characters for each, with ten books (except series fifth which he couldn't finish, that has 7 books.) And this is just his historical fiction. He also wrote many novels, novellas, and plays.
Galdós is the Spanish Dickens, Balzac, or Tolstoy, (and I could go on and on with many titans of the XIXth century.) He is my favorite author. This is his Wikipedia page, and here you can find an article on some of his works that have been translated.
I enjoyed this and the other National Episodes I have read. Galdós has a talent to bring history alive, and he does it through an invented narrative of a main character who grows through the series. His ability to paint a picture with words, and specially, his talent to write dialogue, make him a master. He was the "Netflix" series creator of the time. At an age without TV, his novels that were mostly published in installments, (such as Dickens and many other XIX century writers across the world), delighted his audience. Worth noting it's the fact that he enjoyed tremendous popularity among his readership, while the 'stuck up' academia never gave him his place until he died and was looked at from the passing of time by other readers and critics who redeemed his tremendous value in the world of literature.
I believe he's not more known around the world because he was born in a century that saw some of the best literature in English, French, Russian, Italian, and many other languages. His century marks the boom of literature, and it's difficult to see readers branching out of their language confines. I do understand that perfectly.
However, my plea is that, should you just venture a bit into this great writer, there's a few short tales or novellas you could try. You have two pages here at Project Gutemberg, with books in both English and Spanish.
2. A 20th century classic – any book published between 1900 and 1968.
True Grit, Charles Portis
This was an unexpected read. When Close Reads announced they'd discuss the book in their Podcast, my friend Kim and I took interest on it, and decided to read it. It was a good book on the light side of reading. It was refreshing and fun. A kind of 'grown up western fairy tale' I called it. Mattie Ross, narrator and protagonist, is unforgettable! There's two movies, last one by the Cohen Brothers. I always like watching the movie versions of books, and this was no exception. Some lines afford lots of conversation. It's a different world, the wild west, I tell you. There was a lot of discussion of law, what constitutes good and evil in such a time as the wild west, the archetypes in the book and what they represent. A dear American tale of honor, revenge, identity. I recommend it.
3. A classic by a woman author.
Mansfield Park, Jane Austen
My love for Jane Austen has grown much this past year. I'm truly glad I continued reading her works. Each book has shown me so much of her than just my first uninformed reading of Pride and Prejudice many years ago. I went from being indifferent, to being convicted that she was a masterful writer.

What made me change? I believe reading along with other people, listening to what her fans have to say about her. To me, reading Nabokov's essay on this title, and what he has to say about her, prepared me to appreciate her books. Also, slowing down and reading more quantity gives the books a different perspective, and allows for them to grow on you. It's true what Nabokov says about Austen creating a new language, a new world. It wasn't until I was able to cut through her prose and unleash the subtle humor in her words that I started to like her. I'm not ashamed to say that I enjoy her in translation even more. I do a mix of listening to her books in audio, (for the British accent, and the well rendered narration some people do), in English, and in Spanish. That cocktail allows me to break into her amazing universe.
A great delight with her it's re-reading. This coming year, Pride and Prejudice is my first target for a third time.
4. A classic in translation.
The Cross, Sigrid Undset, #3 of Kristin Lavransdatter trilogy
If you have not read this trilogy, please do! Amazing. The third book was the culmination of Kristin's life. Once you turn the last page, you can't stop thinking about the life of this remarkable woman, with all her ups and downs. The beauty of the descriptions, and the depth of the thoughts expressed by Undset completely immerse you in Norway and the story. This is a gem to me and many of us, since there's not an abundance of books that take place in Medieval Norway. A classic, a book that through a particular time and place will discuss universal themes and teach us and delight us, and in which the story and the beautiful way in which it's told sweep you off your feet.
5. A children's classic.
The Silver Chair, C.S. Lewis
Part of the Narnia series, this is my favorite one so far. (I'm still missing two). I adore Puddleglum. This is a delight to read, not just for kids but for adults. I read it aloud to my daughters, and we three enjoyed it.
6. A classic crime story, fiction or non-fiction.
The Murder of Roger Ackroyd, Agatha Christie
Christie and Poirot. Classic combo. They don't fail. They always deliver. High class light reading here.
7. A classic travel or journey narrative, fiction or non-fiction.
Look Back on Happiness, Knut Hamsun
One of the most strange books I've ever read. As I read it, it felt familiar somehow. One scene at a fair, a dance, reminded me so much of this painting by Monet Renoir.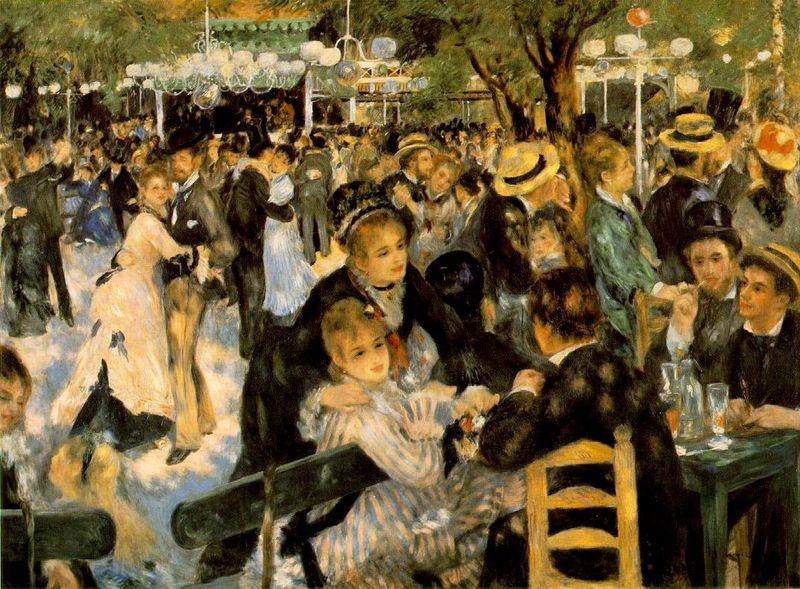 The book is a strange mix of diary of his travel, narration of other people's lives, social commentary, stream of conscience. Hamsun is wandering through his country, from place to place, with some time in between of being in the mountains as a hobo. His prose is in your face. I don't know. I'd have to read this one again, or/and another of his books. That's my goal for next year. Hopefully, I may be able to fit one of his books in one of the Back to Classics 2019 categories.
8. A classic with a single-word title.
I read not one, but two in this category!
Alfanhuí, Sánchez Ferlosio
Beautiful book. My favorite from these 12. Good news, it exists in English. I have it right now, -before I ship it to my dear friend Sherry. I wanted to see if it retained the magic in translation. It did! It's a book for those who love poetic prose, -but not cryptic. Even through the surreal atmosphere there's a real and clear narrative. It's the life of a boy, his coming of age. A bit of a picaresque novella. This is a book for the lovers of recondite titles, hidden gems, and indescribable books.

Persuasion, Jane Austen
What can I say? This may be my favorite Austen from her main six. Though I don't want to commit to having a favorite. I just love all her books for different reasons. I think it's as they say, the most mature of her books in the sense that she was trying something new with it. It was this article about it by Virginia Woolf that expressed with exactitude what I felt present in the novel that makes me say this. I agree, Austen was taking more distance from her world, her writing was becoming more layered, her exacto knife pen more sharpened.
9. A classic with a color in the title.
The Scarlet Plague, (La peste escarlata), Jack London
Post-apocalyptic philosophical entertaining novella. 🙂 The Scarlet Plague has killed almost all humans. The only survivors are an old professor, a few other adults, and some children who don't know the world before the plague. Riveting 'what if' tale.
10. A classic by an author that's new to you.
A Room of One's Own, Virginia Woolf
I read it. It was something I wanted to do. I consider the book still relevant, but outdated too. I can't say I loved Woolf. I wanted to, but I don't. I attempted to read her To the Lighthouse, and I could try to understand more, or start with a different one and work my way to liking and appreciating her, but I frankly just don't feel for doing so. As a reader I am committed to grow, to overcome my limitations and expand my horizons, but I can only do so much at a time.

It'd be stupid of me to deny her place in the literary canon just because I don't happen to enjoy her as a novel writer at the moment. I have to say I love her articles on literature and other writers, though. So fair and square. I still enjoy part of her work.
11. A classic that scares you.
East of Eden, Steinbeck
I was very scared about this long book by Steinbeck. But having read and loved his short The Winter of Our Discontent, and having had East of Eden recommended by my dear reader friend Katie, I felt strongly that this was the year to climb this mountain. I'm glad I did. Steinbeck writes some of the most beautiful sentences I've ever read. He is a story teller per excellence, and I admire how effortlessly he weaves the story of a family and their community throughout the years with universal thoughts and questions on love, relationships, and the ultimate question of why we are in this world.
12. Re-read a favorite classic.
The Great Gatsby, Fitzgerald
I'm forever glad I decided to re-read this classic. I just finished this book a few days ago, and wrote the review for it. This second time, the book blew me away. I met Kim yesterday, and we spent a lot of our together time discussing it. In my review you can also see the podcast by Close Reads we are listening to. Today is their third day discussing it. I can't wait to listen to the final podcast and after, to their answers to the listeners's questions.
And this sums it all. One more year in the books. I'm looking forward to the Christmas break, and also to the 2019 Back to the Classics edition.